McLaren is a marque that requires no introduction, with a racing heritage that goes back to the 60s. However, it was the creation of one of the best supercars ever, the McLaren F1, that seared its existence onto public consciousness. Like most supercars, the F1 dived deep into the racing world, where years of battles advanced it into its best and final form, the McLaren F1 GTR Long Tail.
Long Tail, then, is a historically significant name given to only the best that comes out of Woking, and there is only one car in its stable today with the name – the McLaren 600LT.
McLaren compartmentalises its cars into three categories or Series: Sports Series, Super Series, and Ultimate Series. The 600LT sits at the pinnacle of the Sport Series, and in putting the heavy LT weight on its shoulders, McLaren could have easily given it every weapon in its disposal to create an unrelenting, no-nonsense supercar. Is it, though?
But first, some numbers. This orange example is a McLaren 600LT Spider. Aside from an extra 48 kg from its roofing mechanism, it is identical to its Coupé sibling. Woking's venerable 3.8-litre twin-turbo V8 powerplant makes 600 hp and 620 Nm of torque in this application, and power finds its way to the rear wheels via a 7-speed dual clutch transmission.
This means the 600LT Spider will dust the century sprint in 2.9 seconds, and then the second century in 8.4 seconds, going all the way up to 324 km/h. It has ceramic brakes lifted from the 720S (390 mm up front, 380 mm at the rear) which will bring it to a standstill from 200 km/h in 121 metres.
These are serious numbers, and of course we never got close to it on our public roads. Further injection of agility comes by weight savings. Thinner glass, carbon fibre panels, lightened suspension components – all of these add up, and if you tick every lightweight option box to make it as light as possible, it will weigh in at 1.4-tonne.
In Spider form, the 600LT is actually 50 kg lighter than the 570S. However, we don't recommend this uncompromising pursuit for lightness as there won't be air conditioning, stereo, and front axle lift – features that are highly necessary on our sweltering weather and pockmarked roads.
Unlike models in the other loftier Series, the 600LT Spider makes do without active aero and that magical hydraulically-linked suspension setup that is the calling card of modern McLarens. It rides on a setup with anti-roll bars, and this is where we begin to understand just what McLaren truly wanted to create.
Where the hydraulic suspension feels aloof – almost as if it's a higher being that only tolerates the existence of the driver – the traditional setup is down to earth in its honesty. The ride is on the acceptable side of firm when the dampers are set to Normal, but more than that, there is a transparency that the hydraulic system simply did not set out to do. Every inch of the road is communicated exactly as it is to the driver through the seat, and the same transparency is found in every tool used to communicate with the car.
You can see that the steering wheel is fantastically austere, and it communicated volumes. Every little stone can be felt through the Alcantara finished wheel, and it was telepathically direct to turn into corners. The brakes needed some warming up, as is normal in carbon discs, and are hugely reassuring in both weight and stopping power when they get up to temperature.
The cumulative result of all these coming together is feedback channel that is both predictable and instantaneous.
However, the engine felt comparatively, well, normal. Where everything else had an immediacy and delicacy, the V8 powerplant is unassuming below 3000 rpm, and then 'woomph' the boost really comes on and you're exploding into the horizon. Some drivers will undoubtedly like this, but it doesn't fully integrate with the character of the car. The engine doesn't really sing either, preferring to holler instead when prodded.
It goes without saying that there is absolutely no way to even go near its limits on a public road, so the other half of the day was spent on the other important aspect of supercar ownership: posing.
We kid – it was spent ogling and feeling up every inch of the car, and in McLaren Orange, the 600LT Spider looks superb. All the carbon fibre inserts stand out in stark contrast, and as is usual in supercar ownership, most of everything is customisable. As tested, this example received the MSO Clubsport Pack and Carbon Fibre Upgrades that brings – you guessed it – carbon fibre parts like the front splitter, side skirts, wing mirrors, side vents, rear diffuser and rear wing.
The last has a special coating in the middle section of it to prevent any damage from hot exhaust fumes.
The aforementioned MSO Clubsport Pack definitely brings further character to the car. Amongst its many elements is a pair of Super-Lightweight Carbon Fibre Racing Seats (found in the McLaren Senna as well). They weigh 3.35 kg a piece, and are the highlight of the interior while, as mentioned earlier, adding to the transparent driving experience. However, this monochrome interior won't be palatable to everyone, so specify it right and you can have Burnt Orange or Midnight Blue accents in it.
A simple contortion brings us into an interior that is as focused as we've ever come across in modern supercars. These seats look the business and are surprisingly comfortable if you're around the mean Asian height – I spent hours diving in and out of them and driving the car with no aches to show for it, but I digress.
The seating position is absolutely spot on, and from here there is a slight hint of the front bodywork so placing the car around corners is surprisingly easy. There aren't many buttons to play with to put the focus where it's supposed to be, and they are all within easy reach of the driver. The resulting effect is a clean, minimalistic cockpit that is pleasing to eye, and psychologically it primes the driver towards driving more than anything. Your passenger won't have much fun, but in here, it's all about you.
Like all convertibles, extra drama comes when the roof is brought down. The engine is suddenly so much louder, and there is a keen awareness that it is right behind you. A haze created by the heat of the exhausts finds permanent residence in the rear view mirror. Look over the side of the door and the body parts that help aero are within easy reach. Theatre is what convertibles are about, and all of this certainly makes up for the miniscule dent in performance.
All of this brings us back to the question, is it an unrelenting, no nonsense track special? Yes… and no. In its quest to create a pure, driving experience for the track, I think Woking also created (fortuitously so) a remarkably approachable supercar. It will unquestionably dissect tracks everywhere, but at the same time you know exactly what it brings to the table, thereby removing some of the intimidation that supercars always have. It has all these weapons, but it lays it on the table and says, you take over and use whatever you want.
In the fast-moving (pun intended) world of supercars, this basic approach to creating an entertaining and extraordinary driving experience is refreshing. Every single officially imported 600LT into Malaysia (of which only a couple are Spiders, retailing at circa RM2.4 million including duties but before options) have been sold, and the car has also been lauded all around the world. It's really no wonder. The 600LT Spider deserves the name, and it certainly carries the weight forward into the modern era with aplomb.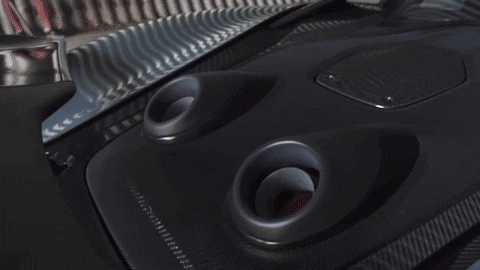 ---
IMAGE GALLERY